Accounting Close Software
With its dashboard-driven management framework supporting all aspects of your period end, Cadency Close will allow your finance team to identify bottlenecks and communicate potential issues early and often, greatly reducing the possibility of missed deadlines and ensuring the accuracy and completeness of your financial statements.
Take Control and Have Audit-Ready Visibility into the Entire Financial Close Process
Improve the management of your financial close process by moving away from manual spreadsheets, eliminating time-consuming meetings, gaining visibility into potential bottlenecks and improving documentation practices through automation.
Organizations who rely on Cadency Close are seeing up to:
Reduction in Time Creating Management Reports
Reduction in Time Preparing and Completing Close Tasks
Reduction in Time to Support External Auditors
See Cadency Close in Action
Close Task API
As your organization's close continues to get more and more complex, it's a great opportunity to seek out avenues for automation. By using Cadency's Close Task API and automation such as Trintech's ERP Bots, organizations can cut down on hours of manual labor, while simultaneously reducing the risk inherent to a manual, burdensome process.
More Videos
Automation with API and ERP Bots
When Close APR is paired with ERP Bots, a depreciation run becomes a totally hands-off process while still getting the benefit of the tracking and controls native to Cadency. This video walks through a Depreciation run with two outcomes – results returned are within the variance threshold, and results returned are outside of the variance threshold – and the expected accompanying workflows.
Unlock the Powerful Capabilities of Cadency Close Management
Cadency Close is part of our powerful SMART Platform and integrates with all the key Record to Report activities including account reconciliation and certification, journal entry management and compliance, quickly preventing "white space" breakdowns.
By using Cadency Close to automate and document your period end, you'll be able to take command of and have audit-ready visibility into the entire financial close process.
Streamlined Task Dependencies
Cadency Close provides delivery of appropriate supporting documentation, automated workflows, and the elimination of rework which all contribute to a reduction in the time required to research and complete a Close Task.
Close Task APIs
The API connector simplifies how users track and manage documentation, making the Financial Close processes more effective, enhancing support for audit activities and preventing inaccuracies. Automated workflows for tasks and the push API within Cadency Close allow for communication with an organization's ERP.
Clear Task Assignment
Reduce risk by allowing admins to assign individual tasks based on project criticality, including implementing controls to prevent users from assigning multiple steps of the workflow to the same user and the ability to override when appropriate with audit trail.
Efficient Task Management
Users can bulk edit, upload and export information from the Close API Task details section and maintain these fields in a matter of moments, thereby saving time and effort that can be spent on high value add tasks.
Improved Visibility & Insight
Close tasks, dependencies and audit trails are stored in an eBinder, and the information can be viewed remotely by internal and external auditors via a web browser.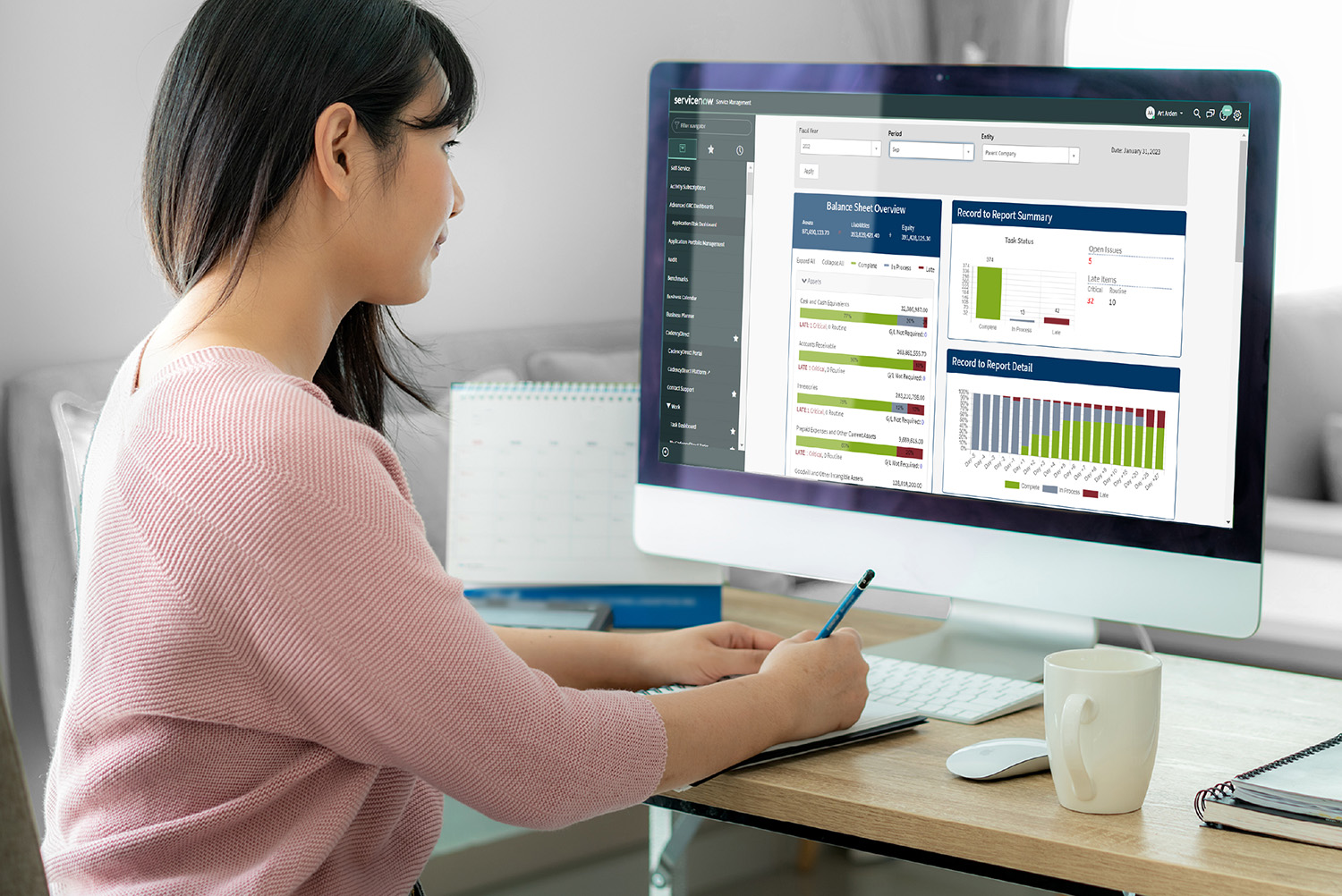 CadencyDirect on ServiceNow®
Powered by Cadency, Trintech's native built application for the ServiceNow Platform, CadencyDirect, offers the only application on the Now Platform that is designed specifically for the unique needs of the Office of the CFO. CadencyDirect allows ServiceNow customers to leverage all the benefits of the Cadency while enabling greater connection across the business through native workflows and triggers.
Cadency SMART Platform
Discover a Comprehensive Solution
Cadency Close Management is part of Trintech's comprehensive Smart Platform, the only Financial Corporate Performance Management solution that enables integration of all your Record to Report activities into a single seamless process.
Learn More
Learn More About Cadency Close Management
Interested in learning more about what Cadency can do for you? Check out some of our most recent content pieces.