Cadency Journal Entry Accounting Software
Cadency Journal Entry helps you to avoid common issues found in manual approaches. With real-time visibility, control and validation of the status of journal entries, this approach quickly translates into much stronger overall governance of your Record to Report (R2R) process.
Strong, Accurate and Readily Accessible Documentation of Your Enterprise's Financial Performance
The journal entry process is a crucial part of ensuring an accurate close, accounting for all financial details, and creating audit-ready documentation. For most organizations, the process lacks visibility, control and offers little in the way of risk management. Cadency Journal Entry centralizes information and automates the journal entry process while delivering audit-ready documentation and maintaining compliance with both corporate guidelines and governmental regulations.
Organizations who rely on Cadency Journal Entry are seeing up to:
Reduction in Time Preparing and Reviewing Journal Entries
Reduction in Time to Support External Auditors
Reduction in Write-Offs as Discrepancies
See Cadency Journal Entry in Action
Data Profiles for Enhanced Collaboration
More Videos
Visibility into Overdue Journals
Unlock the Powerful Capabilities of Cadency Journal Entry
Cadency Journal Entry, part of our powerful SMART Platform, focuses on automating journal entries and associated workflows with proper controls to reduce overall costs and minimize risk associated with manual entries. By acting as the bridge between required adjustments and your ERP general ledger, the solution creates a closed-loop process.
Risk Intelligent Automation
Ensure your Journals are posted into your ERP in compliance with Journal policies to enforce your control framework as well as ensure your system of record has accurate and up-to-date information.
User Assignment Flexibility
Select additional preparers to increase productivity and allow greater flexibility within journal entry assignments. Create pre-approval workflows via automated email notifications to ensure validity of data and prevent discrepancies at period end.
Risk Rating Engine (RRE)
Calculate the risk associated with any financial transaction by analyzing it against a set of pre-determined Risk Rules and historical data analysis. AI Risk Ratings ensure better audit preparation and the ability to quickly locate high risk transactions that could have resulted in fraud or misstatements.
ERP Agnostic Integration
SAP®, Oracle®, and NetSuite® Certified pre-built connectors are designed to reduce the cost, time and risk of data integration by eliminating the need to develop custom code, making the integration between your ERP and Cadency budget-friendly, faster and more efficient overall.
Currency Validation
Ensure correct formatting is applied across global currencies. In addition, foreign exchange rates can be maintained and integrated for processing and reporting.
Data Profiles
Enhance security and controls for JE preparers, collaborators and administrators by configuring rights on journals based on company code or location.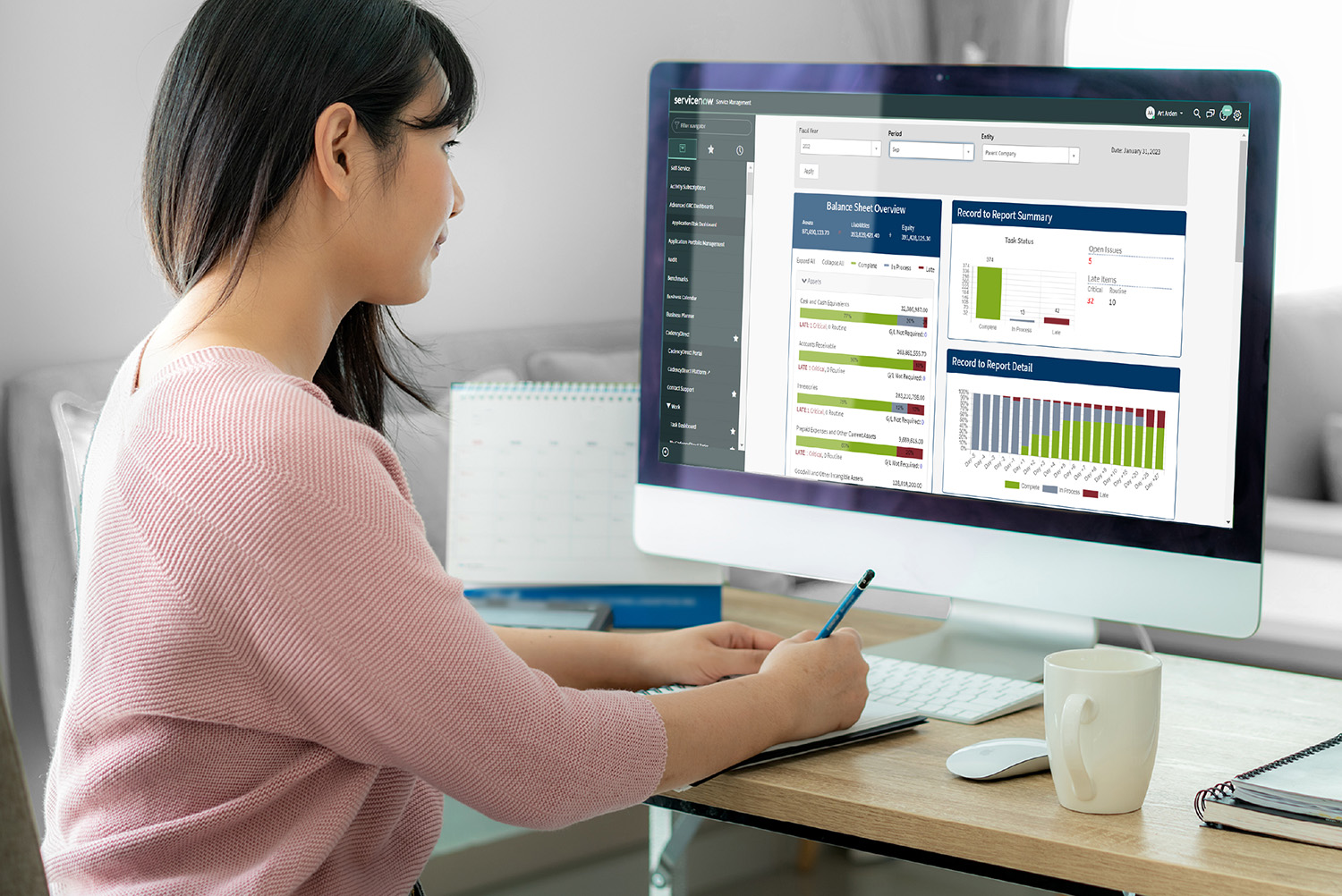 CadencyDirect on ServiceNow®
Powered by Cadency, Trintech's native built application for the ServiceNow Platform, CadencyDirect, offers the only application on the Now Platform that is designed specifically for the unique needs of the Office of the CFO. CadencyDirect allows ServiceNow customers to leverage all the benefits of the Cadency while enabling greater connection across the business through native workflows and triggers.
Cadency SMART Platform
Discover a Comprehensive Solution
Cadency Journal Entry is part of Trintech's comprehensive Smart Platform, the only Financial Corporate Performance Management solution that enables integration of all your Record to Report activities into a single seamless process.
Learn More
Learn More About Cadency Journal Entry
Interested in learning more about what Cadency can do for you? Check out some of our most recent content pieces.