Cadency Certification
Improve the integrity of the account reconciliations that create your Record to Report's crucial foundation with Cadency Certification – an innovative solution that automates General Ledger reconciliations.
Drive Efficiency and Effectiveness in the Account Reconciliation Process
Despite the predictability of its monthly, quarterly, and annual occurrences, the financial close process is still remarkably chaotic and inherently risky for many organizations around the world. However, today more and more companies are discovering the benefits of automating their reconciliation process.
Organizations who rely on Cadency Certification are seeing up to:
Reduction in Number of Accounts to Be Reconciled
Reduction in Preparation Time on Reconciliations
See Cadency Certification in Action
Bulk Binder Administration
GL Reconciliation Binders allow you to quickly and consistently pull information out of Cadency to provide appropriate documentation for internal and external auditors. Bulk binder administration reduces the time needed to add accounts to binders, helping ensure confidence that each binder contains the correct accounts.
More Videos
Dynamic Account Maintenance
Cadency Reconciliation – Certify can help mitigate repetitive work and allow more focus on value-added activities by leveraging Risk Intelligent Robotic Process Automation via Dynamic Account Maintenance. This functionality not only saves time but also creates full transparency whenever there are any changes to the dynamic routing, making control and audit easier
Multiple Preparer User Groups
Increase your close process efficiency with collaboration capabilities within Cadency Reconciliation – Certify. Users can be added to preparer and reviewer user groups assigned to the same reconciliation, while still maintaining the segregation of duties for audibility. This reduces administrative work and time and cost of the close and also optimizes resource allocation
Discover the Powerful Capabilities of Cadency Certification
Cadency Certification is part of our powerful SMART platform that improves the speed, quality and accuracy of your financial close by automating the entire general ledger reconciliation process while providing real time visibility into your close process.
The solution uses risk-intelligent automation to reduce risk, instill confidence and automate manual tasks as you manage all aspects of this process including tracking its preparation, review and assessment.
Automated Reconciliations
Enable auto-certification of accounts, as well as the automation of scheduling based on your defined criteria and risk thresholds for greater efficiency. Additionally, you can automatically notify your team of high-risk reconciliations that truly require human intervention.
Exception Management
Cadency Certification ensures that the vast majority of the historically-manual data entry and processing of reconciliations is reliably automated; this greatly reduces the number of reconciling accounts and allows reconcilers to focus directly on exceptions.
Risk Automation
Risk automation actively controls the reconciliation workflows and certification, while significantly reducing manual tasks; its risk tolerances are configured to your company's unique specifications prior to implementation.
Management Dashboard
Certification dashboard provides up-to-date visibility into processes with all critical information regarding alerts, reconciliation progress, news, and documents.
Grouped Reconciliations
Grouped reconciliations in Certification drive more efficiencies in your process by taking similar accounts that can be mapped to a single group and reconciling them all at once. This removes manual efforts for your team and reduces the time to close.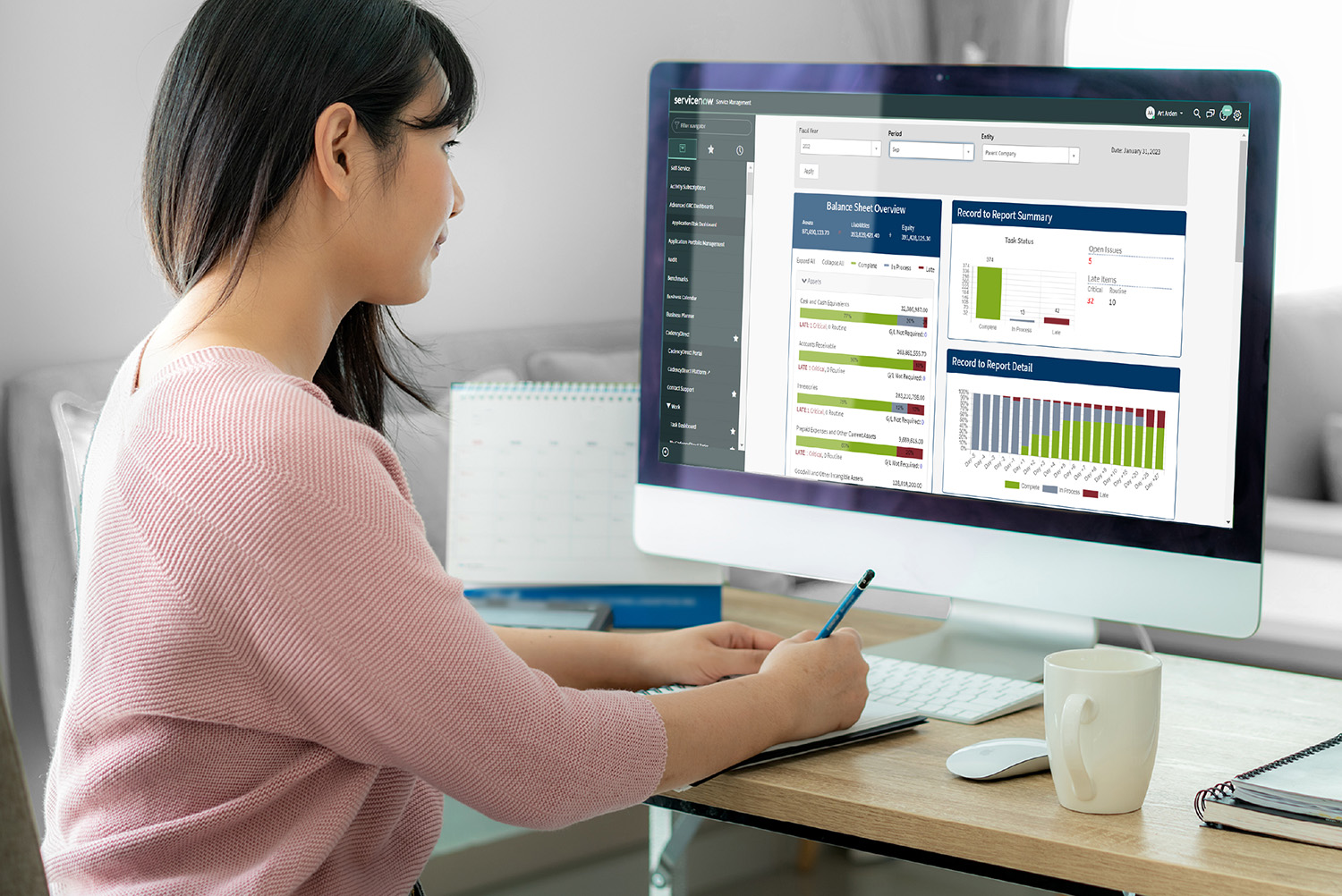 CadencyDirect on ServiceNow®
Powered by Cadency, Trintech's native built application for the ServiceNow Platform, CadencyDirect, offers the only application on the Now Platform that is designed specifically for the unique needs of the Office of the CFO. CadencyDirect allows ServiceNow customers to leverage all the benefits of the Cadency while enabling greater connection across the business through native workflows and triggers.
Cadency SMART Platform
Discover a Comprehensive Solution
Cadency Certification is part of Trintech's comprehensive Smart Platform, the only Financial Corporate Performance Management solution that enables integration of all your Record to Report activities into a single seamless process.
Learn More
Learn More About Cadency Certification
Interested in learning more about what Cadency can do for you? Check out some of our most recent content pieces.